Project partners are developing a digital handbook for entrepreneurs which will guide companies to bring up the changes in the way of thinking, hopefully resulting in growing number of green businesses. 
In this section of the webpage you will find difference audio visual materials which will help you to explore sustainable business topic.
VIDEO FROM THE SEMINAR "SUSTAINABLE SOCIETY AND BUSINESS" IN RIGA, 19.04.2023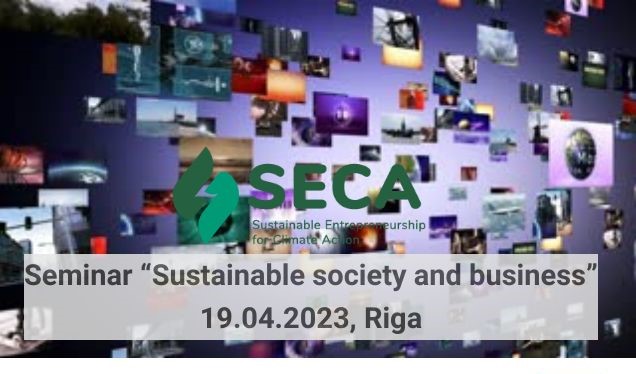 On April 19th in Riga Turiba University hosted seminar which was devoted to the topic of sustainable business.
During the event participants had chance to learn more about survey and research on sustainable business to listen presentations from several experienced sustainability experts from Latvian, Germany and Finland. The event was attended also by entrepreneurs who shared their stories about sustainability and social corporative responsibility.
MEDIA PRODUCTION CHALLENGE FOR STUDENTS
During Intensive training in Rovaniemi, which took place in spring 2023, students were involved in media production challenge. It is important to teach students about climate change, sustainable living and sustainable business, but even more important is to motivate and encourage them to talk about sustainability – with their friends, course mates and society. 
With this intensive training in Rovianiemi the organizers wanted not only to give new knowledge about sustainability to the participants, but also motive them to become ambassadors of sustainability in their Universities and communities. One of the tasks during this week was to create video story about climate change and sustainability. Here you can watch 3 most interesting video stories from the Rovaniemi week created by our students:
Climate change and example of the company offering sustainable business connection platform
This video explains what factors are influencing Climate change and shows us example of the company which created solution to foster sustainable business. Watch the interview with about the company which offer connection platform for the companies searching sustainable business solutions.
Sustainable tourism business in Lapland
This video explores the profile of typical tourist in Finland and offers several ideas how to make tourism business more sustainable. Students are telling some simple an easy to implement ideas how to improve sustainability in tourism industry in Finland. 
How to use "Problem Tree" method to create sustainable products?
This is short video created by the group of students about the method called "Problem Tree". Task of the students was to analyses climate change create problems and find develop sustainable products with the help of "Problem Tree" method. See how it works!
EntrepreneurshipTV videos about sustainable entrepreneurship